Feb 09
11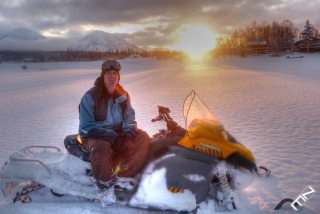 Well, It has been a while since I have made any effort at writing an update on what I have been doing lately, and I figured that it would be a good idea to fill in some of the gaps. And I have only really told stories, and I wanted to actually delve a little deeper, and share some thoughts about our current situation. A quick recap. After wrapping up the cabin in Alaska, I spent some time with an awesome family in the nearby town of Port Alsworth over Thanksgiving. Although it was a nice break, it was anything but relaxing. There was plenty of work to be done. Felling huge timbers, chainsawing into chunks, hauling down the hill on the snow-machine, to the house, splitting and stacking. But it kept us warm in the sub zero temps. At the start of December I boarded the plane to the big city, Anchorage, and got hooked up with a great place to stay, and met some great new friends in the process. A few weeks were spent in Anchorage preparing for the Registered Guide Test. Many late nights were experienced, but it payed off, and before long I was headed to Idaho to see my family and friends.
It was a glorious reunion, because when you are away for extended periods of time, especially several months, you gain a much greater appreciation for people that are close to you. The Holiday season was already in full swing, and it took up most of my time, just catching up. My Grandparents from the far off land of Minnesota, and also my sister from New York, came for Christmas, and made the season that much more special. There was food, parties, and stories a plenty, and before I knew it ,the New Year rolled around. It was during that time that so many things changed. Our first black president was inaugurated, and the reign of the Obama began. The economy went through, and still is going through, a crazy up and down roller coaster, mostly down than up. The list goes on, and you all know these things happened and are happening, but we are the ones caught in the middle of it all, and we must ask ourselves, what are we going to do about change. We can chant the phrase, and promote the instigator, but what is it that we are doing to help it come about?
Now I do not promote myself as an expert in this field by any means, and frankly, being one that spends most of my year out in the far reaches of the wilderness, with little contact with the current events and news, I am somewhat behind on some of the big issues and topics of today. But that being said, I am also just as much affected by these times, and changes as anyone. This year has brought about some huge changes in my life as well. I have launched into the world of entrepreneurs, taking the lead in building my own business. Although it has not been just my own efforts and initiatives. I have been incredibly blessed to have some great business leaders, coaches and mentors to take me along the way, step by step, in a very short amount of time. One of the biggest being my Dad, having the background in business building himself. All that to say this, change is here, and we have the weight of this burden on our shoulders.
Now you can blame all of it on the previous president, or the melting of the polar ice caps, but when it comes down to it, it is us, we asked for it. All we have now is to take a stand and go with it. The change that is here is not all good, but it is these times that force us to do things differently. Businesses have had to change, cutback and compete harder for work. But I believe that when we emerge on the opposite side of this era in history, we will be proud of the accomplishments and growth, but that is only if we take the initiative to make the best of the situation. In order to continue on, we must have more tenacity than ever. It is the people that prepare and manage their businesses and personal lives at this stage, that will be way ahead of the curve when it is all over. It doesn't matter our age, or schooling, we have what it takes, and that should be a motivation.
I do not have the get rich quick book, or the seven steps how to change your life, but I do know that there are principles to being successful, and maintaining a great personal life. Start small. Do you have a budget for your time and money? I get taught this day in and day out, and it wasn't until I actually started doing it that things began to change. It is amazing how productive you can be when you manage your time. Days fly by, and you can look back at the accomplishments and measure the success.
Also, are you growing in your knowledge? Not how well you can haggle for a deal or finding out what happens on the next episode of Lost, but true, valuable knowledge. There is such a huge availability of information out there, that it is very easy to get caught up in social networks, and engaging media, and miss the learning opportunities out there. Try listening to someone, rather than just wanting to hear yourself talk, you would be surprised how much you can learn from people and grow your relationships. Because we can lose all of this around us, but relationships last, through thick and thin, and they can keep you going when it all falls apart. Pick up a book, and read, maybe turn off the TV, and spend some time feeding your brain, instead of your eyes. Spend time with your family, if you have one, and grow together. We need all the help we can get, and it is always awesome to get help from someone that doesn't have their own agenda as number one priority.
I hope these thoughts can benefit someone, and it might seem that these simple things don't make a difference, but if we don't change personally, how can we change this Nation. Yes, we may be on the road to socialism, but maybe that is what it takes to make this country wake up, and realize how easy we have it here, and that it takes us, taking a stand for change, to keep us together, and strong. I am sorry, but a new leader is not the answer, it starts in all of us. One thing will never change however, that God is in Control, and he can give you peace in the midst of the storm.