Mar 09
16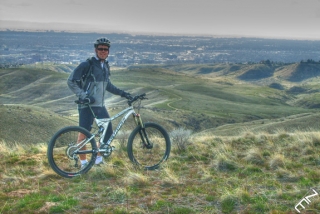 Although I was born in Boise, and raised most of my life in the treasure valley, there was sadly so many things that I missed out on growing up, but that I have thankfully been able to enjoy the past few years during my visits from the north land. These activities have been, kayaking, Rock climbing outdoors and indoors, Mountain Biking, and Fly fishing. All of these activities have enthralled me, but I finally started taking hold of the opportunities that were all around me. I am not able to enjoy them to the fullest extent however, due to my lack of time spent in Idaho, but the time that I do have here is very well spent. I have been able to carry a lot of these past times back to Alaska, which adds another twist to the outdoor sports.
This is for those who maybe have never experienced any sort of outdoor adventure, and maybe have never wanted to, but I am here to tell you that you are missing out on the incredible creation that surrounds us, that goes deeper than the concrete sidewalks, and the towering sky scrapers. It is something that appeals to the adventurous side of us all. Yes we have different tendencies, and hobbies, but i believe there is alot of untapped potential that is waiting to be released.
So just to give you some examples I am going to go through some of my adventures and experiences here in Idaho, that are easy to get into, and enjoy. Some are more expensive than others, and some can be done without any money spent at all. Although most of the activities listed here do require personal involvement, and can occasionally lead to loss of sleep, bruises, scrapes, increased adrenaline, weight loss, and all around fun, which could interrupt with your day to day, same old same old. Continue reading at your own risk.
So to start off the list, lets jump into winter sports. Since Idaho is one of the great places that actually has four seasons, it is good to make use of the weather, and local environs, no matter what. My all time favorite sport in the winter is Snowboarding. There are several variations to this winter endeavor, and you may wish to rather speed down a snow covered hill with two planks rather than one, (AKA skiing) but which ever direction you swing, make sure you get a chance to learn, or pull out those old dusty chunks of plastic, and give it a go, again. Snowboarding is my sport of choice on the snow but there is also Down Hill, Cross Country & Telemark Skiing, snow blades, Snowshoeing, snow machines, and the like. As long as there is snow, then winter can be an enjoyable time to recreate. Check out Bogus Basin, Brundage, and Sun Valley for some great resorts to enjoy winter sports.
During the cold winter months, another pastime that I have always loved, but just recently increased activity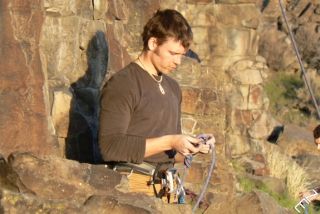 in, is indoor rock climbing and bouldering. It is a great alternative, but not a replacement for climbing out on real rocks, and gets the blood flowing, when outside things tend to slow way down. Convenience is a big factor for this sport, and the
Nampa Rec Center,
in Idaho, has been a great avenue for fulfilling this need. The people there are really knowledgeable, and has been a great help in process of my growth as a climber. So indoor climbing is a great opportunity to enjoy outdoor activities indoors. However, if the weather and time is conducive to outdoor adventures, then feel free to venture a bit further, and experience some of the natural beauties that are all around, in the form of boulders and cliffs. These Rock formations, thousands of years old, are a sight to gaze upon for sure, and they offer a whole new twist on the climbing scene, and it barely even compares to climbing in a gym. It does however require some very good gear. If you are going to be bouldering, which is free climbing with no ropes, then all you need is shoes, chalk, and crash pads. If you are going to be top roping then you will need ropes, harness, carabiners, quick draws, and gear to set bolts etc. So make sure you are prepared for the task, and talk to local climbers, to get the inside scoop on the area. For good gear and info for the rock climbing in Idaho, check out,
Climb Idaho
, or check out
Asana Climbing
, a great local company for bouldering equipment, holds and mats.
I will be writing more about outdoor adventures soon, and tips on how to get out there more. Stay tuned.
So for those that might be living in the Boise valley, or for those that make their home elsewhere, where ever you may be, get out there, and have some fun. I don't mean just go bowling, or partying, or just hanging out, I mean get outside! breathe the fresh air, experience some life on the edge. You will be glad you did, and although your body might be slightly against such physical activity, push past those desires to relax and do nothing, you will be thankful in the end. And start small. Its not that you need to go climb Everest tomorrow, or drop a few thousand on a mountain bike, but begin some where, and grow from there. As they say in everything, baby steps. You will be amazed at the great people you meet, the interesting stories that are told, and the feeling of real life outside of the house is really like.