Dec 10
15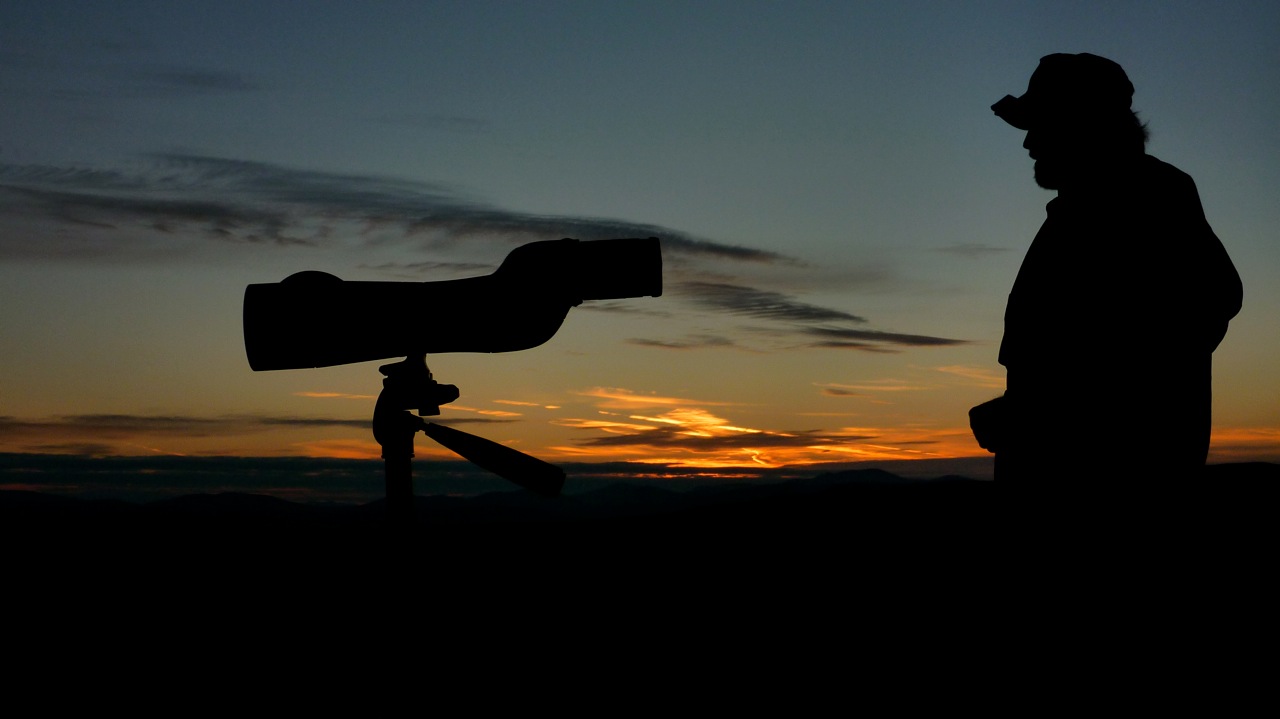 After stepping over what seemed to be the millionth alder branch, we looked up and there he was, 3 yards away, a huge ball of brown fur. Immediately we began cheering that our quest was over, but then, the ball moved, and slowly turned it's head toward us. My first instinct was to raise my gun to my shoulder and take him down, but as I did so, and pulled the trigger, all it did was "Click", and my eyes went wide with fear.
Several days earlier…
It was a beautiful day as the plane took off from Port Alsworth en-route to the base camp of West Wind Guide Service. Seth Kroenke was my pilot, but it was not the first time we had covered ground, high above the ground. The flight was fairly uneventful, but we did gaze upon a few groups of Caribou, which are not as prolific as in the past, but seem to be making a come back. The hour long flight gave us a first hand view of just a small chunk of the vast wilderness known as Alaska, with miles and miles of open tundra, alder strewn valleys, unnamed creeks and wild rivers. It was perfect hunting country and we were headed to the heart of it. I was coming out to guide an 8 day grizzly hunt, towards the end of September. I was working for Tony Lee for the first time, and was looking forward to learning from one of the best.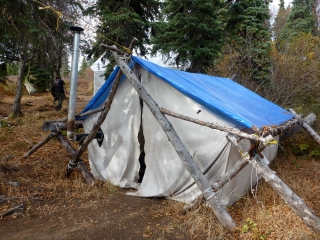 Upon arrival into camp, I was greeted by Tony, camp packers and guides who were preparing for the next group of hunters coming out the following day. I was immediately impressed with the organization, and was shown around. The actual base camp was located off the hill, about a half mile, which took a good little walk to reach. They said that one of the reasons for that was to make sure the clients were in good enough shape to go on the hunt if they could make it up and down the hill a few times. Tony flew out a couple other camps and guides that evening but I remained in camp for the night, which I was grateful for when I saw what was on the menu. Needless to say the food was first class and I slept very well.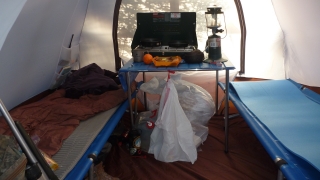 The morning began with an amazing breakfast and it filled us all up beyond the necessary limit. It wasn't long after a short trek up the hill, and we were air born. Tony had a great spot for us, on a hill with a flat saddle that proved to be a great landing strip. By the time Tony got back with my client, Jim, I had the camp all set up, and it did not take long to get organized and head out to have a look around. It was another gorgeous day, but unfortunately that does not add up to gorgeous hunting weather. It wasn't until near sun down that we started seeing activity. 30 caribou were scattered in several groups throughout the surrounding hills. A beautiful sow grizzly with two full-size cubs was making slow progress, while being distracted by a large patch of berries. The area seemed to have good potential so we went to sleep with high hopes for a good start of the hunt.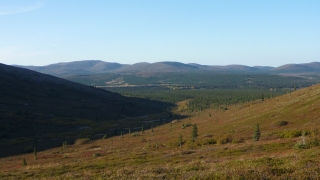 Up in the morning, with eggs and bacon sitting well in our stomachs, we traversed the short distance to our lookout from where we could glass a large amount of area. The wind had picked up over night, so we continued to layer up to fend off the icy chill that seemed to pierce ever deeper. The morning rays were just beginning to arc across the sky when Jim eagerly tapped me on the shoulder. "There's a bear!" he whispered. I almost didn't believe him, but turning and looking through the binos, I saw the reason for the eagerness. It was a nice colored bear, about a mile away, but in a good spot feeding nonchalantly on a berry patch. It didn't take too long to make our decision, and even though it was only the first day, it looked like a good opportunity and a good bear. The stalk took us right past our camp, so we were able to drop some of our unnecessary gear. We covered the distance as quickly as possible, and it wasn't long before we were staring right across the gully from the big bruin.
To Be Continued, come back on Friday for the 2nd half of this story.