Nov 10
8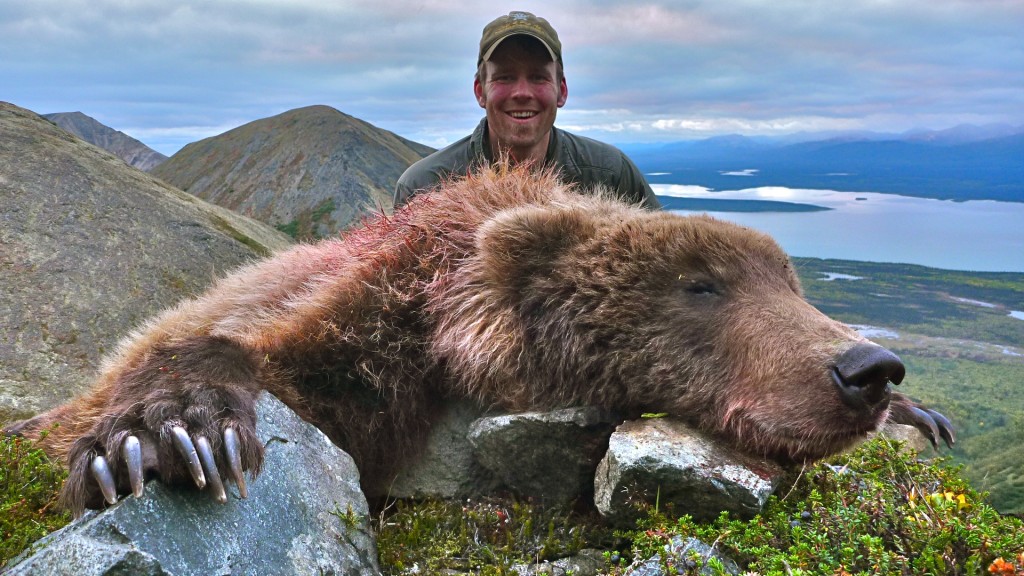 The thick bushes and steep ravine finally faded behind me, as I reached the shale and took a break to take in the beauty that surrounded my vantage point. It had been a tough climb, and the distance seemed to stretch with each wet and soggy step that I took. The feeling of being on top of it all, and gazing upon God's Creation all around was breath taking, especially with the colors of fall that highlighted the valleys and ridges with a golden yellow. It was the first real chance that I had to get out, with a lack of the typical guiding schedule, and free to pursue some game for myself.
I was really hoping to run into some sheep, but being that I had not harvested any big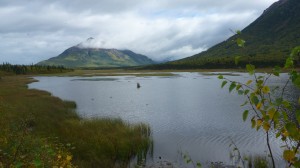 game animals in Alaska for myself, I was happy to go home with anything. So with my pack laden with a full camp, complete with tent and several days worth of food, I departed that afternoon determined for success. I had traveled first by boat and then took off hiking. It was a two mile hike before I even reached the base of the mountain, but even before that I had spotted some game. A big lone black bear was tearing across the mountain top to the North of my position. I was tempted at first, but the going looked much more difficult in that direction, and the bear was moving around too much. So I decided to continue on my route, with a goal in mind to get to and camp for the night.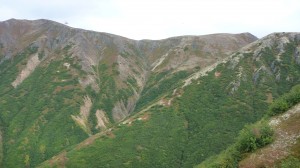 Following the ravine, I saved a-lot of bushwhacking, but climbing and scrambling over rocks and stream trail made up for that. The top was accomplished as well as an increased heart rate. The going got easier, but unfortunately I had developed hot spots on my feet due to wet socks from stream crossings and boggy territory. So upon reaching a good vantage point of some promising country, I sat down and relaxed for a bit, glassing the surrounding area. Almost immediately my heart jumped as black became visible in my binoculars, but then disappointment ensued as I spotted one, then two, little black spots nearby. It was a sow black bear with two cubs. Although they were not pursue-able, it was still encouraging to see many animals. The last time I had been up hunting this area, I had only seen a sow and cub, so already in the first few hours I was setting new records.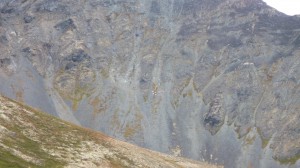 I was munching on a granola bar, AKA dinner, when I heard rocks falling. With the shape of the ravines and the echo, it seemed as though it was coming from right around the corner, but further inspection revealed several white spots dotting a far slope. Dall sheep, nine of them, but all ewes and lambs, no rams in the bunch. So apparently this area I was exploring was a nursery. Not what I was hoping for, but still just loving the sight of those beautiful white masters of the peaks. The weather was quite warm, and I was able to remove layers, but I was extremely grateful for my full upper body bug net. It was not very stylish or as good to see through, but it did the trick to keep back the horrible biting flies called White Socks. You just have to get used to them constantly buzzing all around your head, which can drive one crazy.
The evening was beginning, so I descended from my perch into the small valley, in search of another vantage point that had some sort of level dirt in which to catch some Z's for the night. I accomplished the feat, but as soon as I sat down to have a look around, something blond came into focus in the binoculars. It was a grizzly bear. I was not expecting to see a grizzly up that high, since the salmon were dieing aplenty in the rivers below, and offered ample food for the bruins that time of year, but that one preferred to scrounge for berries instead. I had a brief debate in my head on whether or not to pursue the bear. It would be a subsistence hunt, and would require me to harvest all the meat, and the reputation for grizzly bear meat was not good. The hot spots on my feet were also on the borderline of becoming blisters. The excuses went on and on and nearly won out, but finally, a decision was agreed upon.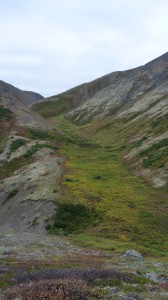 I hoisted my pack, tightened the straps, and began to close the 1/2 mile distance that separated me from the bear. He seemed to be just feeding in a small berry patch and I figured he would stay there long enough for me to make the stalk. The wind seemed to be in my favor, but it changed around a bit during the stalk. Thankfully I had no alders or bushes to wade through, but it was wrought with shale and a steep incline. At the top, there was a small gully that I hiked through, and then up the other side, angling towards where the bear was last seen, with the ridge of the slope keeping me out of sight. The wind had changed for the better, and as I moved closer, it was right in my face. Getting to within 400 yards, I dropped my heavy pack and continued slowly with not but my rifle, walking stick and range finder. I edged my way around the slope step by step, trying to keep my footfalls soft, not knowing how far he could have moved. I eased my way around and looked into the ravine that he was feeding in, but there was nothing.
I began to wonder where he could have gone, either down the hill, or up, so I walked a few more steps closer, craning my neck to see further. But then I happened to gaze right above me, and there he was, and close too, just feeding away from me up the slope. I quickly dropped down just out of sight, and got my rangefinder out. easing back up, the finder read forty yards. I could not believe it, I was so close to such a powerful and beautiful predator. I knew that it was not a big bear, but at that point I was not worried about that, I was intent on a successful harvest, which was what I had set out to do. So I set up my walking stick as an uphill rest for my rifle. I had already loaded a bullet into the chamber, so I took aim, with the bear filling the scope, and waited for him to turn broadside and offer a good clean shot. I did not have to wait long though, and he fed into position. The shot rang true, and the bear did nothing but drop and begin to roll down the slope. I put another shell into the ball of fur, just to be sure. I was so stunned and excited I could not even speak.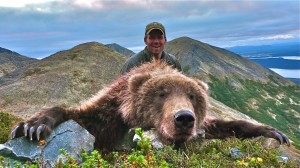 The bear stopped a few yards down, and I rushed to the scene to evaluate the result. I was so happy, but I was still speechless. So all I did was smile and take it all in. It didn't take long to retrieve my pack, take pictures and set up my camp on a small semi flat spot. Since it was nearly dark when I shot, I decided to wait till the next day to proceed with hard work portion of the hunt. I did not sleep well on my little side mountain spot, but I was successful, on the first day, and that got me through. The next day I arose before the sun, to beat the heat and the bugs, and got it all done and in my pack in only a few hours, just as the first bugs showed up. The hike down did not take long either, and I had a beautiful sunny day to keep my spirits up through the incredibly tough job of packing out a bear hide and meat and all the gear, but every step was worth it.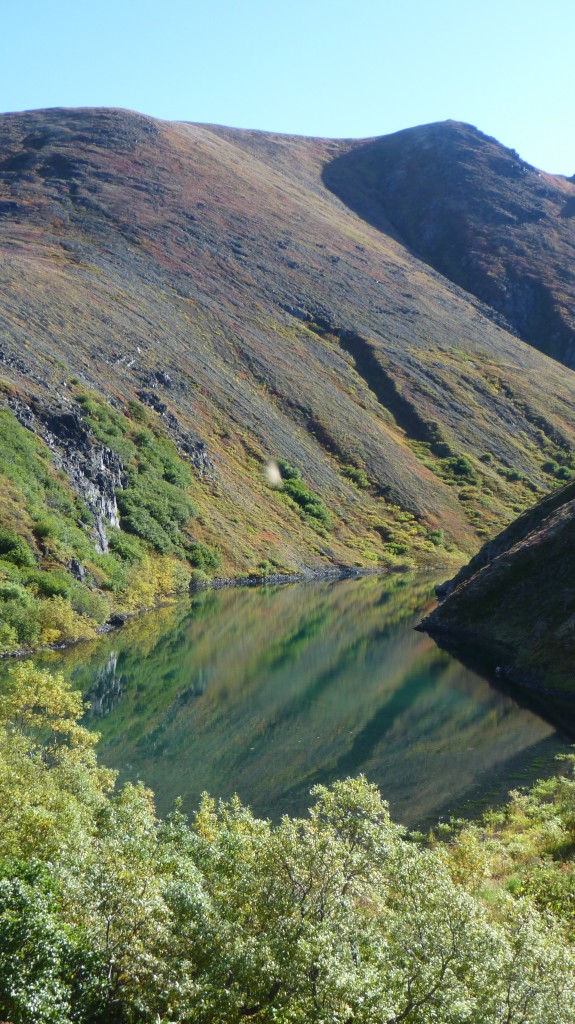 Sitting in the boat, with my sore feet soaking in the cold lake water,  I thought back to the whole experience, as short as it was, and how I had finally broken the lack of big game harvest for myself. It was a good feeling, and thankfully the meat was equally as good, making it a double whammy. I think it was because of the small size of the bear and him not eating rotten salmon that kept the meat pretty solid and hearty. So if you are questioning keeping mountain grizzly meat, I say take it and enjoy the other part of the harvest that does not end up on the wall. Also this bear was taken with a 300 WSM, which to some may be too small of a caliber for grizzly, but I say, its not the size of the bullet hole, but the accuracy of the shot. All in all it was great experience, which did not need a successful harvest to make it so, but it definitely was a nice bonus.