Apr 09
6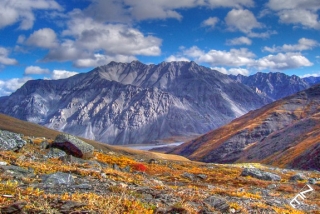 The Sun beat down upon our already sweaty backs, causing our minds to wander to thoughts of cold drinks and rest under the shade. However those thoughts would have to remain only that, for we were on the trail of the canny and keen eyed Dall Ram. It was opening morning of the 2005 sheep season, and already the action was hot, almost as hot as the unusually hot sun that was making the creeks roar with extra enthusiasm. Preston Cavner was the Guide, Garry Hurless was the client, and I was in training, and what better way then by experiencing it first hand. The day Prior had been spent hiking in and out of rain showers, Scouting for an opening morning shot at a dandy ram. Due to the non-existence of night this far north, it was possible to shoot a ram at 12:01 in the morning. We found a few nice rams, but they lived up to their name and eluded us.
In the morning we headed up this new canyon, and already passed up a long shot at a good 8-year-old ram. Being as it was the first day we kept our options open. After a tough climb, we reached a nice hill in the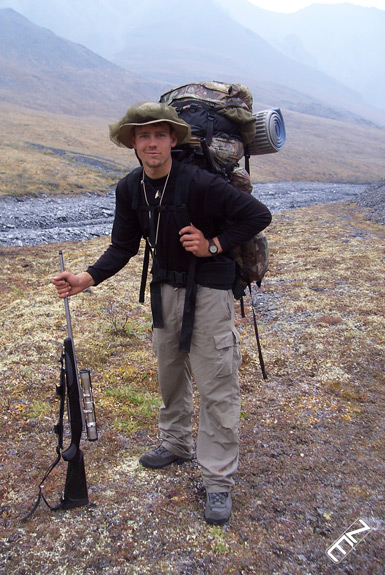 middle of a huge basin and decided to set up camp, with a tremendous amount of area to observe. Throughout the day we continued to see several rams, but none caught our attention. Due to bad weather back in the town of Kaktovik, Preston decided to get his airplane in a more secure location, and headed back, leaving me in charge of the hunt. Being as it was that Garry and I were good friends and neighbors, we were up for the change. We went to sleep with thoughts of white sheep and curly horns.
Awaking to another sunny day, I prepared breakfast of oatmeal and bagels, and ventured out of the tent to glass, while Garry sipped his coffee. Immediately I spotted a nice ram, along with another juvenile. It was only four hundred yards away, but on the opposite side of the canyon. Quickly and quietly I hurried back to the tent to alert Garry, who was by this time ready for action. We both looked at the Ram through the spotting scope and it was easy to see by his long points that this was a good one. Evaluating the situation, we agreed that stalking was the better option rather than risking a long shot. So we descended from our lofty perch, as the rams began to move from their beds and proceeded to feed. By the time we reached the bottom and began up the other side, the rams were out of sight. The climb was not nearly as easy as the decent, but slowly and surely we kept on. Even Garry's age of 63 didn't hold him back from completing the task at hand.
Due to the sheep's 8-power vision, it is nearly impossible to approach in plain sight, so we went from gully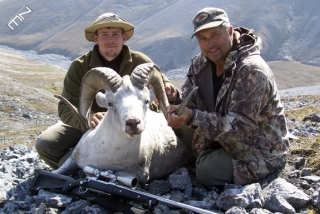 to gully in the direction of the rams last seen location. However when we reached the peak, they were nowhere to be seen. It was by then mid day, and pushing 70 degrees, which is quite warm for the Brooks Range. We decided to descend a bit to check in the cliffs, which would be the only shaded spot for the rams. Gently we edged our way along the top of the cliffs searching every nook and cranny. Nearly giving up, I ventured out to the last end of the cliff, and peaked out over the edge. Sure enough there was the ram for which we sought, staring right through me from his bed. It only took a split second for the ram to jump up and high tail it out. Quickly I yelled to Garry to shoot. Quick with his hands and an excellent marksman, Garry made quick work with his rifle, and stopped the ram in his tracks. And just like that it was done. All of the hard laborious climbing and heavy packs faded from our mind, as we approached this fallen king of the mountain tops. Our judgments of his size proved correct, and his full curl, and complete tips made for an excellent trophy. Although it was a long 4 miles back to the main camp, it was all down hill and even the hike could not put a frown on Garry's face.