Aug 12
7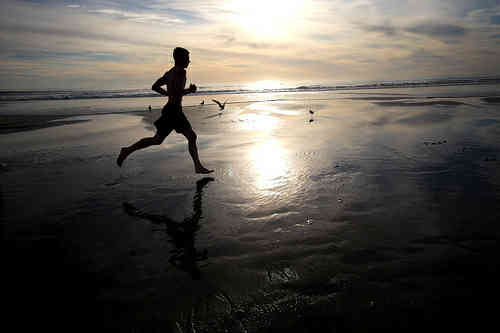 When I hear the word "Running" used, there seems to be three main viewpoints.
– The first cannot stand the activity, the word, or even the thought of participating in such a thing.
– The second does participate, but only on a limited scale. They feel the need to do their share of running to stay in shape, but they hate every moment of it.
– The third category seems to be some how blessed by God with a love for running, and an endurance that could seemingly last forever.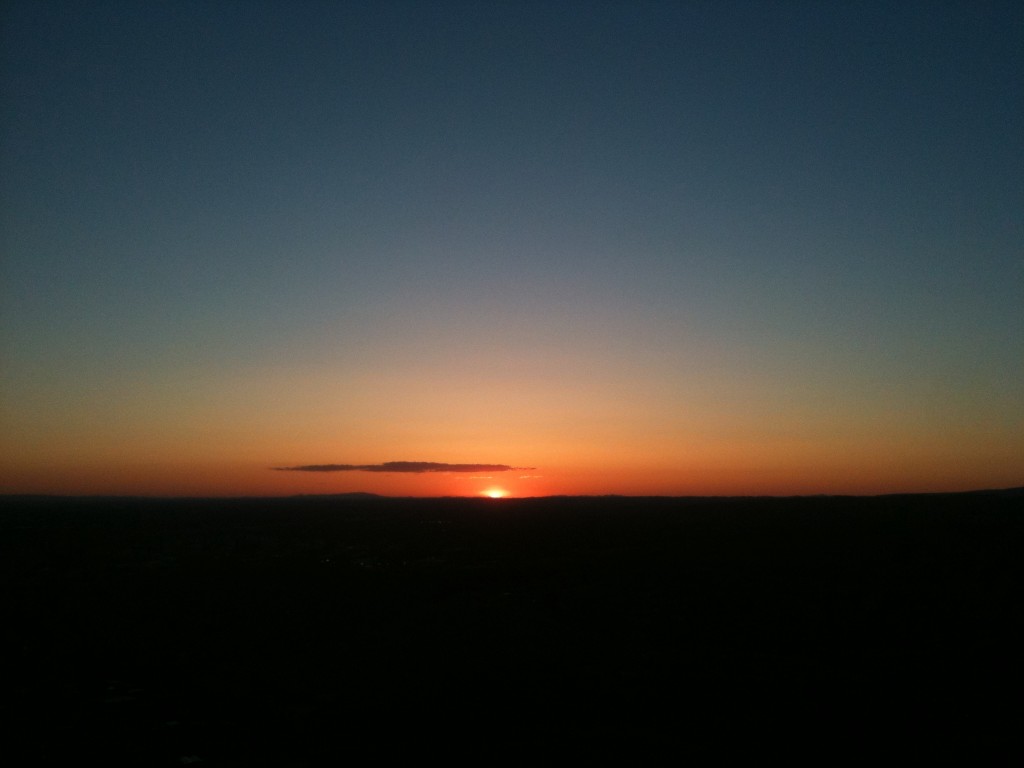 For years I seemed to be stuck in the first category. Maybe not to the extreme, but it was definitely something that I never found an attraction to. My first real experience with it was during my training at the ALERT Academy. We would run every day, and had to pass a PT test that included running two-miles in under 16 minutes. I was able to do both, but they were not enjoyable. However, it did force me to stretch my physical strength and ability beyond what I thought was possible. That concept continued to build as I became a hunting guide in Alaska, but it was still limited to fairly slow paced activities. I began to move into the second category. I had the need for exercise, because hiking several miles in mountainous terrain with over a hundred pounds on my back was normal. I stayed in that mindset until this year.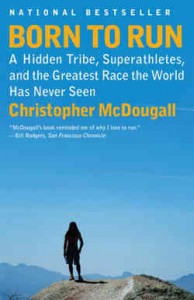 I had started off the year with a goal of running consistently, and to run greater distances. The year started off strong, and my running began to increase, especially after watching Unbreakable, a film about a 100 mile race. But there was still something missing. Shortly after that, I experienced my first race. I was not a participant, but I had the pleasure of capturing the event on film, and to be right there along-side the runners. Seeing them push through the difficulties, and cross the finish line really got my wheels turning. The thing that really topped it all off was a few months later, when I read "Born to Run", by Christopher Mcdougall. The book is a combination of Documentary and story, which follows the author through his encounters with various runners, techniques and science, that all points to a final conclusion that we are all "Born to Run". After listening to the book several times, I was convinced.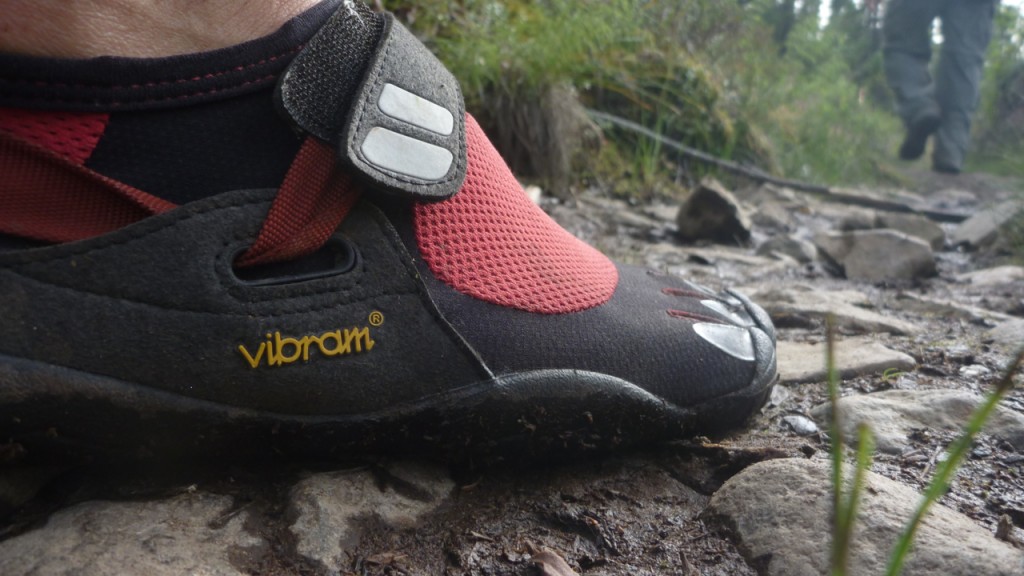 A big topic in "Born to Run", is the minimalist running style, with people running better with less injuries in older flatter shoes and bare foot. So since I had joined the Five Finger revolution a year prior, and they had proved themselves time and again for scrambling, hiking and water sports, I decided to give them a try as a running shoe. The first time out in them I ran two miles, and felt great. No pain in my hips that seemed to get me when running in regular shoes. Although my calves had to compensate since I was no longer heal striking, and mainly landing on the middle and the balls of my feet. I had thought that my arch would also give my pains since the Five Fingers have no support in that region, but the pain never came. Even after increasing the mileage over time to 6 and 7 miles. They performed well on mad made and natural surfaces. The protection in the foot gloves are minimal, so I had to be extra careful about my footfalls and stray toes, but the payoff was an amazing feeling of barefoot running that brought me to a place where I could actually say that I love to run.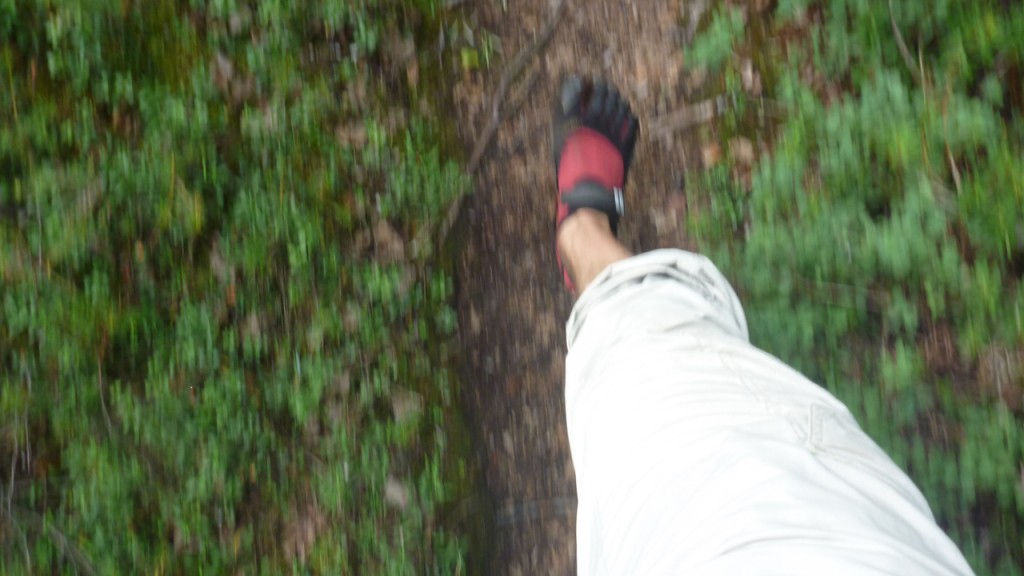 I recently tried out my Five Fingers on a mountain trek of 3600 ft. elevation gain up, and 4.5 miles distance one way. I was actually skeptical since there was a prevailing amount of shale and rough rock that had succeeded in lacerating my hand several years prior, so I brought hiking boots as a backup. It was an unnecessary added weight, because once I started up, my feet kept a close connection to the ground, and the feeling was amazing. My toes could stretch and grasp, and thrust me forward with each step. The climb was average paced and we made the top in 2.5 hours. The day was gorgeous and we all felt exhilarated by the accomplishment. We even got a buzz job by a local pilot, as he flew over our heads at a whopping 10 ft. On the trek down we kicked it up a notch, and a friend and I decided to run all the way down the mountain. It was very tricky staying upright, with mud, tundra and roots crossing the path at every turn, but we successfully completed the 4.5 miles in 55 minutes, descending from 3950 ft to 250. And once again the five fingers were with me all the way.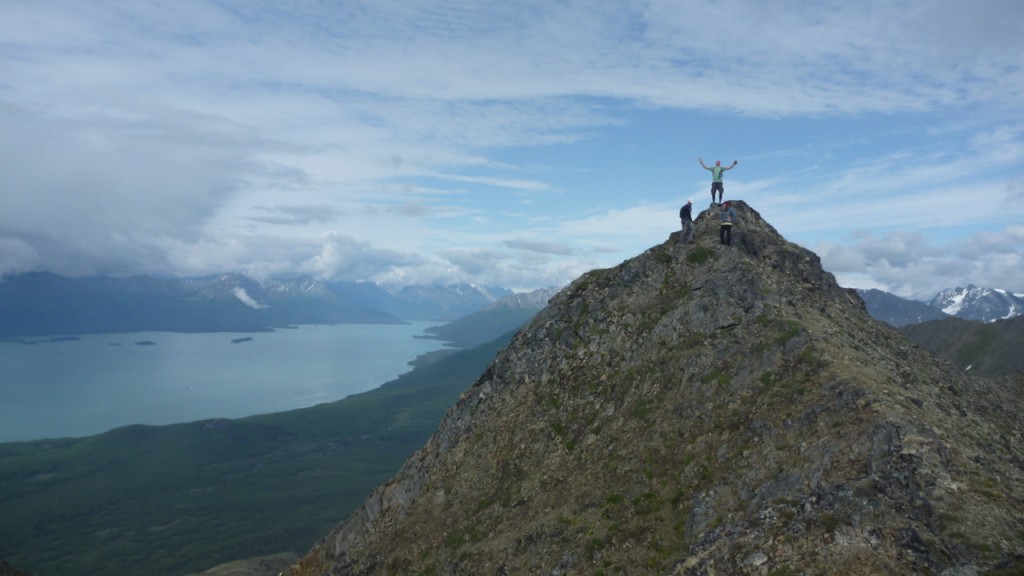 I am slightly disappointed that I did not happen upon the love of running at an earlier year. But I am glad to be at this point of my life when I can be a part of a group of people that can not only put some miles behind them, but also say that they enjoyed it.