Apr 10
14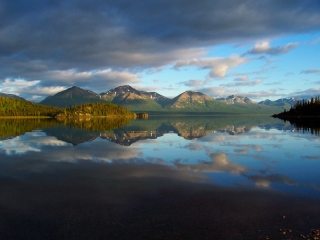 Through the past several years of being in Alaska, there has been many new and exciting adventures that I have been privileged to be a part of. Each one with its own unique experience and thrill. Although these have been enjoyable for me and those involved, it has been my heart to not limit the adventures to only a few participants. That is the reason I became a guide, to share my passion for the outdoors with others. And so now I am proud to announce, birthed through that passion, a brand new avenue to partake in the adventure. It is Wilderness Pro. Wilderness Pro is not just another fishing or adventure lodge, it is both, and more.
The company is family owned and operated, located in Southwest Alaska, in the Lake Clark National Park and Preserve. It is near to where I began my apprenticeship in Alaska, and where my love for Alaska was born. That was back in 2003 and much has happened since then. I worked as a Commercial Fisherman, an Assistant and Registered hunting Guide, Project manager for construction, and Videographer. But all of those jobs were preparing for the adventure called Wilderness Pro. We began building the Lodge in 2007, using only manual labor and many a blood, sweat and tear to get the trees felled, the foundation dug, and the building erected. All in all the building project has been spanned over 3 years, just making sure every precaution was taken to make the dream a reality. We have been blessed by having many different people help us along the way, and we would not be able to be where we are without their addition to the team. We are now in the finishing stages of the building, and have officially launched out into the deep, and will be open for business starting this summer.
Since our location is centrally located on Lake Clark, we are within short boat or plane distance from world class fishing for 6 species of fish, and within a short plane ride from many more. Although the fishing is a common activity that people come to Alaska to experience, there are many other exciting aspects of Alaska that can be overlooked, such as kayaking next to pristine waterfalls, or hiking to the tops of the mountainous peaks, or just relaxing and taking it all in. We here at Wilderness Pro seek to offer a well rounded adventure, that includes Alaska from many different angles. But this is where the Adventure With A Purpose comes in. We want to not only offer a true wilderness experience, but we want to add value and lasting impact. So we are going to be facilitating a specific purpose to be accomplished at the Wilderness Pro Lodge. Whether that be a Conference for leaders, a corporate retreat, or a new development that requires a dynamic setting to add some power and clarity, we make that happen. Our purpose it to facilitate dynamic adventures with a purpose.
We are very excited for the new opportunities that await, and brand new places to be explored, and so glad that we can make this journey as a family and have the ability to bring people along the way. We have and will continue to work hard to provide the best service and experience possible for you to have an Adventure with a Purpose, that lasts far beyond the trip. Visit us here at Mywildernesspro.com, and come see how you can experience Alaska with wilderness Pro.